The Gus Belt Family Foundation, a 501(c)(3) nonprofit organization, provides programs, resources, training, services, expertise and outreach for persons with special needs and disabilities to positively impact their lives.  The specific objectives and purpose of the foundation are:
To provide special education students in high school with the opportunity to learn job skills that can be used in the real world to find employment

To create a more inclusive and disability-aware environment among the educational environment, the business and professional community, and thereby society at large

To allow special education students to be considered as capable, employable, and productive members of the job market
The Coffee Cart Program ("CCP") is our flagship program.  The CCP is a complete (9th through 12th grade) job skills curriculum which is given, free of charge, to qualified high schools to educate, train, and prepare special education students with job skills in order to obtain and retain employment after graduation. 
The CCP curriculum includes hands-on training for teachers, and a complete, step by step instruction packet with materials and lesson plans with activities for each lesson for their students.  The CCP curriculum teaches specific job skills in 6 key areas: Communication, Attitude & Enthusiasm, Teamwork, Critical Thinking & Problem Solving, Networking and Professionalism. The CCP students learn to make, serve, and operate a coffee delivery and walk-in customer business at school.  Every student learns each job of the CCP: Greeter, Server, Barista, Cashier, Stocker, Custodian, Dishwasher, Bookkeeper, and Team Leader.
As part of this life changing curriculum, the Gus Belt Family Foundation partners with local business and community partners to provide the CCP students several opportunities to work in a real world job training experience in a local business throughout the school year.
The goal of the Gus Belt Family Foundation is to fully fund and give a Coffee Cart Program to every qualified school that wants one.
Our Outreach Program is a critical component to the CCP.  Through our Outreach Program, we partner with  local corporate and community business owners, where our CCP students put their life and job skills to the test each month. With the help of our local business partners, the CCP students work in their place of business  for  1-2 hours a month doing similar jobs that they learn in the CCP.
As part of the curriculum and upon graduation from high school, the Gus Belt Family Foundation helps each student obtain employment from our corporate and community partnerships.
On the left is our first CCP Student of the Month, Victoria, working with one of our local community partners at the Brown Dog Cafe, in Salida, Colorado as a cashier.
Transportation
Our students and adults with disabilities will need assistance with transportation to and from their place of work.  Most people with disabilities do not have the advantage of getting a driver's license so it is incumbent on their caregivers to get them to wherever they are going.  As our foundation grows, we will be looking to add to our programs with additional funding from our donors to help with this need.
Additional Curriculum
We would like to add more high school programs to help teach our students additional job skills that would include a bakery business  and a restaurant business, and possibly others as well.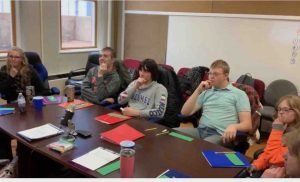 The CCP curriculum is all about teaching the students' job training skills in order for them to obtain employment after graduation. These skills are teaching
Read More »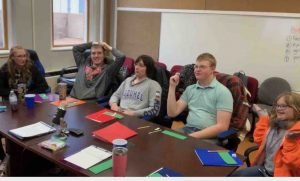 The CCP students are working hard on what body language tells our friends, family, teachers, and potential employers. This is not an easy task for
Read More »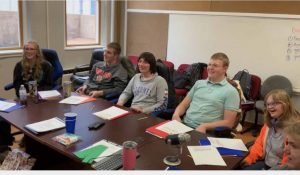 The CCP students have been working hard on their questions for the employees at the Happy Cup Coffee Company from Portland, Oregon. The picture shows
Read More »
Sign up for our newsletter
Stay up to date on our program and the latest news from our foundation.